Playa Peñon Brusi is located on the north coast of Puerto Rico in the town of Camuy, best known for the Camuy River Cave Park, one of the top natural attractions on the island.  If you're visiting the cavern, this beach is a nice addition to your itinerary.   Peñon Brusi is a nice quiet beach mostly visited by locals, with the simplicity of island life, not a touristy spot.   Its name derives from the rocky outcrop called Peñon Brusi, where the prettiest part of the beach and tidal pools are located.
The beach area in between the outcrop and beach is nice for bathing and snorkeling when the water conditions are right.  During the summer months, you can do a little snorkeling and enjoy the walking trails through sand dunes.  At Peñon Brusi you'll enjoy a long walk on the beach, beachcombing for sea glass and shells, watching the surf, and experiencing a more authentic relaxed island vibe.  Most people stay near the entrance and parking area because of the convenience, you'll have to do a little walking to get to the most scenic part of the beach.
2022 Update:  We've been to this beach a few times and we were pleasantly surprised by the changes made by the municipality, such as the addition of a supersized chair perfect for a cool vacation photo.   The beach was clean, free of trash, and the vibe nice and relaxed, we went on a weekday.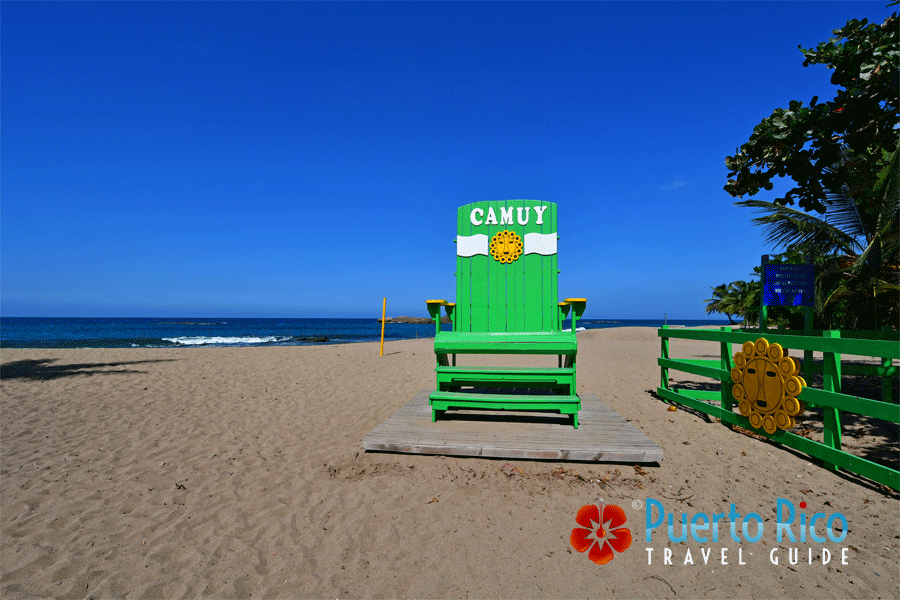 Playa Peñon Brusi is unique with two personalities that change with the seasons.
Don't Miss the Amazing Caves on the North Coast
From Late Spring till Late Fall at Peñon Brusi
From late Spring till late Fall during low tide, a number of tidal pools appear offering clear shallow water…
… perfect for placing the lounge chair or simply sitting and enjoying the sights and sounds of the surf and refreshing from the warmth of the sun.
The beach is wider from spring until late fall and gets little crowds so there's plenty of space to call a small piece of paradise your own for the day.
Peñon Brusi Beach During the Winter Months
During the winter months, the surf gets strong attracting surfers and those that simply love to watch the waves, lounge, listen to the murmuring of the ocean.  Be sure to take a walk in search of seashells and sea glass, they make wonderful memory pieces reminding you of special times together exploring Puerto Rico.
Food at Playa Peñon Brusi – Camuy, Puerto Rico
Bring a beach towel and an empty belly, right at the entrance of the beach, there is a restaurant facing the beach offering traditional Puerto Rican food and great drinks with views of the beach.
There are also a number of food kiosks serving a variety of foods at local / non-touristy prices.  Traditional fried food is delicious, inexpensive, and great to enjoy at the beach.
Photo Gallery - Playa Peñon Brus
Camuy, Puerto Rico
Top Rated Tours - North Region of Puerto Rico
Map - Playa Peñon Brusi
Camuy, Puerto Rico
Tours Visitors Love in Puerto Rico